Washing Machine Repair
A broken washing machine can make keeping up with your household chores a real challenge. You could end up spending a great deal of time washing everything by hand or sitting around at the laundromat waiting for your clothes to get through a cycle. Fortunately, you can make things much easier on yourself by turning to the washing machine repair specialists at Nuke Appliances Repair Service today! We're committed to offering our customers some of the best quality washing machine repairs in the Miami area, and we can't wait to serve you. If you need washer repair and want technicians who truly know their stuff, then we're the team for the job. Call us right away to schedule your washer and dryer repair!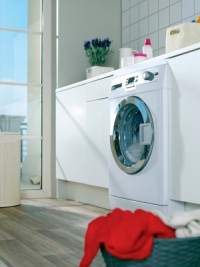 Washing machine problems, if not dealt with right away, can actually get much worse and end up costing you more money. Whenever you have a washing machine issue, you can count on Nuke Appliances Repair Service to be there for you to solve the problem efficiently and effectively. Our washer repair services can address a number of different problems, including:
Leaks
Failure to turn on
Failure to fill
Failure to spin
Failure to drain
Strange odors or noises
Failure to clean clothes
No matter how serious your washing machine issues are, we'll be able to repair your unit with ease. Our seasoned washer and dryer repair technicians have seen almost every washing machine problem there is over our 8 years in the business, and we'll use our expertise to benefit you. We'll take the time to assess your unit's issues before making an accurate diagnosis, and we'll work efficiently to give you skilled, effective washer repair service. 
When you choose Nuke Appliances Repair Service, you can expect both precise workmanship and washer repair service that doesn't cost an arm and a leg. We want to be your only choice for washing machine repair and other appliance service in the Miami area, and that means caring about the things you care about: excellent results and affordable rates. Don't put your trust in another company when we can provide you with local washing machine repairs that will suit your budget and solve your problem. 
Great Warranties for Washer Repair
Have you ever hired a washing machine repair service to fix a broken unit, only to have the problem recur a few weeks later? When you choose to work with Nuke Appliances Repair Service, we'll do our best to keep that from happening. If you do experience recurring issues with a washer not draining or other problem, we stand behind our workmanship with a 90-day parts and labor guarantee. We'll send one of our licensed and insured technicians out to your home to see what went wrong and make it right. Call or e-mail us today to schedule your appointment for washing machine repairs! 
Washing Machine Repairs
Washer Repair
Washing Machines Repairs