Refrigerator Repair
Are you looking for quality refrigerator repairs at a fair price? Then turn to the refrigerator repair professionals at Nuke Appliances Repair Service. We're a team of fridge repair experts that prides itself on offering excellent workmanship and reasonable rates to all of our Miami-area customers. When you rely on us for refrigeration repair service, you can rest assured that we understand your frustrations. No one wants to deal with food spoilage issues, and we'll work hard to make sure you don't have to worry about this for long. Our technicians are familiar with a wide array of fridge makes and models, so whatever problems you're having and whatever model you own, our team has you covered. If you live in Miami and are experiencing refrigerator problems, call us right away for fridge repairs!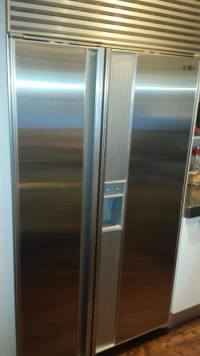 When your refrigerator fails to perform as it should, hiring a refrigeration repair professional right away is the best chance to ensure you won't lose substantial money due to food spoilage. Call on Nuke Appliances Repair Service for refrigerator repairs, and we'll be able to assist you in a timely manner, working hard to keep your food fresh and safe. We even offer emergency refrigeration repairs for those who need help right away.
Our technicians can handle a variety of common refrigerator problems, including:
Not cooling 
Not turning on
Leaking
Constant cycling
Interior light failure
Unusual noises
And many others! 
No matter what type of refrigerator issue you're having, you can count on our training and experience to give you long-lasting results. When you purchase refrigerator repair and parts from us, you'll benefit from a 90-day warranty on parts and labor. That means if your fridge malfunctions again during the warranty period, we'll come back to figure out what went wrong and fix it, once and for all.
Affordable Refrigerator Repair Service
When it comes to fridge repair, you can't afford to put it off indefinitely. If the appliance isn't cooling correctly, in just a short time, all of your perishable items could go bad, causing your wallet to take a hit. If you're hesitant to call a professional for refrigerator repairs because you're worried about the cost, Nuke Appliances Repair Service is here to put your worries to rest. We offer our customers fair prices for fridge repairs in and around Miami. Our licensed and insured technicians will get the job done properly, and we'll charge you a rate that is honest and reasonable, especially given our commitment to excellent workmanship. Don't blow your budget by using another refrigerator repairs service when we're here to offer you affordable rates and superior service. 
If your refrigerator is not cooling, call Nuke Appliances Repair Service. We promise to work hard to ensure your satisfaction! 
Refrigeration Repair
Refridgerator Repair
Refrigerators Repair