InSinkErator Garbage Disposals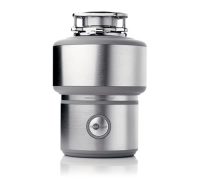 When you're looking for one of the best garbage disposal systems on the market, Nuke Appliances Repair Service has everything you need. We offer complete garbage disposal repair and installation for all types of disposers, but we specialize in service for InSinkErator garbage disposal products. With nearly a decade of experience, full licensing and insurance, and a commitment to getting the job done right, Nuke Appliances Repair Service is the professional to call when you need help with an InSinkErator disposal!
At Nuke Appliances Repair Service, our goal is always to take the stress and hassle out of your garbage disposal problems. That's why we offer both repair for when your garbage disposal is not working and garbage disposal installation for when you need a new unit entirely. Our team is available to work on both Badger garbage disposal and Evolution garbage disposal products from InSinkErator for your convenience. In short, whatever you need when it comes to an InSinkErator garbage disposal, we're here to take great care of you.
InSinkErator Garbage Disposal Repair
Is your garbage disposal not working? Nuke Appliances Repair Service is right here in Miami to help you out when your garbage disposal is leaking or experiencing other malfunctions. We'll diagnose the issue and, for minor repairs, go ahead and get the issue resolved ASAP. For many major problems, you'll find that garbage disposal repair ends up being about the same cost as new garbage disposal installation; in those cases, we'll recommend garbage disposal replacement to get your kitchen back to working its best!
InSinkErator Garbage Disposal Replacement and Installation
Some garbage disposal problems can be fixed easily, but most are major endeavors. In many cases, when your garbage disposal is not working, it's actually more cost effective to put in a new unit than to fix the old. The good news is that Nuke Appliances Repair Service offers garbage disposal replacement as well as repair services. We'll assess your broken or clogged garbage disposal and let you know whether it makes more sense to repair your unit or to install a new InSinkErator.
So when you're looking for help with InSinkErator garbage disposals in Miami, give us a call! We're Nuke Appliances Repair Service, and we're here to provide you with the quality garbage disposal service you deserve. Contact us now to get started.
badger garbage disposal
evolution garbage disposal