Dishwasher Repair
Are you in need of dishwasher repair for a unit that's leaking, making an unusual noise, or just not getting your dishes clean? Are you concerned that professional dishwasher repairs will cost you a fortune? With Nuke Appliances Repair Service on your side, you can look forward to getting affordable, effective dishwasher repair service in Miami. Our dishwasher repair specialists are here to ensure you get top-notch service that doesn't break the bank. Call us today to discuss the issues you're having with your unit. We'll get to work on your dishwasher problems right away so you can get back to business as usual in your kitchen!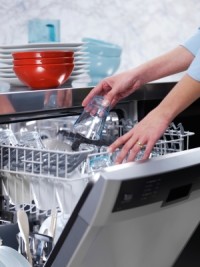 If your dishwasher is showing signs of disrepair, getting it fixed right away is the best way to ensure you don't have to deal with hand washing piles of dirty dishes. At Nuke Appliances Repair Service, we are able to repair or replace the full spectrum of parts, including:
Door latches and switches
Overflow switches
Water inlet valves
Door gaskets
Drain valves
Timers
Heating elements
And more
No matter what type of issue you're having with your dishwasher, you can trust that Nuke Appliances Repair Service will be able to help. We work on almost every make on the market, so you can contact us regarding GE dishwasher repair, Maytag dishwasher repair, or KitchenAid dishwasher repair. Whether you're in need of minor dishwasher rack repair or you're experiencing major problems with your unit's motor or valves, our technicians will be able to address the issue and perform effective repairs. We even work on residential units in commercial settings, so don't hesitate to call on us if the dishwasher in your small business is on the fritz. 
Reliable Dishwasher Repairs
When you need reliable dishwasher repairs in the Miami area, look to Nuke Appliances Repair Service. As a family-owned company, we know how tough things can get when you don't have a working dishwasher to rely on. Whether you call us because your dishwasher won't drain or you have other needs, you can expect that we'll take your concerns seriously and that we won't stop until the job is done and your dishwasher is working perfectly once more. Our licensed and insured technicians are even available for emergency dishwashers repair, if your problem can't wait.
If you're ready to get your dishwasher back up and running right away, call or e-mail Nuke Appliances Repair Service as soon as possible! We have what it takes to make your dishwasher problems a thing of the past. 
Dishwasher Rack Repair
Dishwasher Repair Service
Dishwasher Repairs