Appliance Repair
Are you searching for affordable appliance repairs in Miami? Do you need quality workmanship to ensure your appliances are effectively repaired? If your answer is yes, turn to Nuke Appliances Repair Service. We're a fully licensed and insured appliance repair company with almost a decade of experience on the job. Our team has the knowledge, skill, and training to give you excellent results. Whether you're having an issue with a washing machine that isn't cleaning your clothes or an oven that won't heat properly, you can count on us for reliable appliance service. Get in touch with us right away to learn more about our expertise, or to schedule your appliance repair service!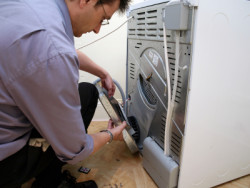 At Nuke Appliances Repair Service, we're qualified to work on a variety of residential appliances, including:
Washing machines
Dryers
Refrigerators
Ice makers
Freezers
Dishwashers
Ovens, ranges, and stoves
Garbage disposals
And more!
Our team provides appliance service for most major brands and models, both gas and electric. We provide residential appliance repairs, as well as appliance repair services for residential units located in commercial settings. We even specialize in Maytag washer and dryer repair. Regardless of what type of appliance issues you're having, we'll work hard to diagnose the problem, repair the malfunction, and all-around meet your needs. We'll provide you with appliance repair services that are tailored to your unit's specifications, ensuring you get immediate and long-lasting results to resolve your broken appliance issues.
Dependable Appliance Service
Are you worried about getting appliance repairs that won't live up to your expectations? That won't happen when you call Nuke Appliances Repair Service. We make quality workmanship one of our top priorities. It's our goal to provide you with effective home appliance repair that will stand the test of time, and with our great customer service, we take care of you as well as your appliances. To ensure you're satisfied with our appliance service, we offer a 90-day parts and labor warranty when you purchase appliance parts and repair service from us. 
Affordable Appliance Repairs
We also take pride offering fair rates for appliance repair services in Miami. We strive to keep costs at a reasonable rate, but we'll never compromise the quality of our workmanship to keep our prices down or to get the job done faster. You can always trust Nuke Appliances Repair Service for thorough, affordable appliance repair. In fact, we waive our service call fee with each completed repair. If you're ready to take charge of your appliance problems and want to work with some of Miami's best, call or e-mail us for appliance repair services now! 
Appliance Repair Services
Appliance Repairs
Major Appliance Repair
Appliances Repair